The R Jet – 062 completed a hydrodemolition job in a shutter area of HE Power Plant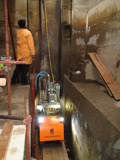 R Jet - 062 was used for a hydrodemolition job inside of shutter area at the HE Čakovec power plant. Using wall guiding systems and thanks to its compact design and low weight the robot managed to remove 2 cm of concrete driving on a regular scaffolding. The robot worked on a scaffolding 12 meter high and treated concrete wall surface.
A video of the job can be found here.
Croatian television made a story about the job in "Svijet profita" show. Key members of INTECO ROBOTICS gave short interviews. You can find the interview on the following link. Choose episode from 09.01.2012 and start from 14:48.