Rotational Beam for the R Jet Robot applications in pipelines was developed and tested on-site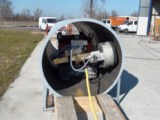 In order to enable the R Jet Robots to work in pipelines from 0,9 m up to 4 m diameter a special rotational beam was designed. It comes equipped with an AGS (Advanced Guiding System) for tool correction that autonomously keeps the tool in the set distance from the surface during rotation.
A video of the R Jet – 062 working inside of a 127 cm diameter pipeline can be seen here.