FALCH representatives visited INTECO ROBOTICS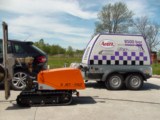 Autonomous, lightweight & modular robots for hydrodemolition & waterjetting applications caught the attention of FALCH GmbH and their robotics department.
Representative of FALCH came to INTECO ROBOTICS to familiarize themselves with R Jet technology. The new falch trail jet 100 with 2500 bar proved to be a good solution in the combination with the R Jet – 062 for hydrodynamic treatment of metal for anticorrosion protection applications as well as concrete surface treatment.