INTECO ROBOTICS received the prestigious Zlatna Kuna Award for Innovation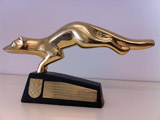 Yesterday evening Croatian Chamber of Economy in the National University Library awarded Mr. Borislav Balać and his INTECO ROBOTICS research team led by Mr. Stjepan Flegarić with the Zlatna Kuna Award for Innovation 2012. The Award is a token of appreciation towards the work that was implemented in the development of Autonomous mobile robots for hydrodynamic treatment of concrete and metal surfaces – the R Jet – 06 Series.
A video of the awarding of the prize available here.
We hereby thank the Croatian Chamber of Economy, its Staff and Members, as well as the Members of the Media for their warm support; and promise to stay strong in our efforts to become a regional leader in applied robotics.
INTECO ROBOTICS Team
Source of the images: www.liderpress.hr