Concept I: Autonomous
R Jet Robots are equipped with Advanced Guiding Systems - AGS
With our proprietary technology we have developed Advanced Guiding Systems that enable our robots to work autonomously without constant input from the operator making them automated in completing on site jobs.
Currently there are five different AGS depending on the job requirements. These are used for automated tool correction ridding you the need to correct the tool manually for each surface anomaly, or enabling you to treat sloped surfaces with up to 15 cm automatic tool correction.
Other AGS are used for following walls, cylindrical surfaces or inside of pipelines. Line following option can be very useful when treating floors or ceilings.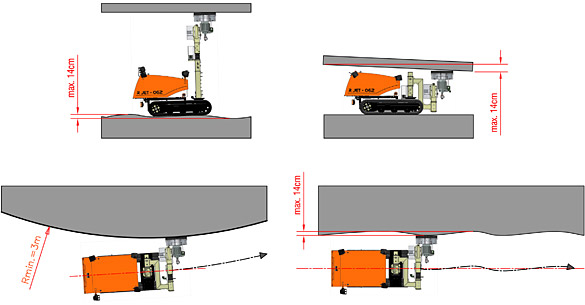 The beauty of the idea comes to reality when you implement the automatic tool correction and one of the automatic surface guiding systems on one of our robots rendering the operator almost completely obsolete in the operation of the robot.